September 15, 2008
The next Ubuntu release will contain (if it does not change) a Firefox which requires you to accept an EULA. According to Mark Shuttleworth this is a requirement from the Mozilla Corporation keep the name Firefox for the next version of Ubuntu.
I think this is a bad idea and I'm not the only one. I would remove Firefox from Ubuntu and take the re-branded version from Debian. I thought when they went with a new name for Firefox, that they are paranoid, but now it looks like they were right!
I think we as community should step up and that these things must be nipped in the bud. If Firefox starts soon every program gets an EULA-screen. After a fresh install of Ubuntu I need to click > 20 EULA screen then.
Update: 5min try for a banner: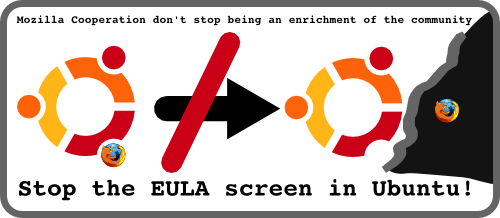 Update:
The Mozilla Cooperation has responded with a blog post. But I still say I don't want a EULA screen even if it shows a FOSS license. Next time we need to accept an EULA when we do a apt-get install blalba.
2 Comments »
RSS feed for comments on this post. TrackBack URI
Let's see how this evolves: http://blog.lizardwrangler.com/2008/09/15/ubuntu-firefox-and-license-issues/

Comment by Markus — September 16, 2008 #

This post is truly a nice one it assists new the web visitors, who are wishing for blogging.

Comment by student — September 10, 2013 #
Leave a comment
Powered by WordPress
Entries and comments feeds. Valid XHTML and CSS. 44 queries. 0.165 seconds.