November 1, 2014
As I'm a user of a Sony Xperia smart phone I pick that thread up. In the Sony support forums a really log thread is running because all current Xperia smart phones got with the Upgrade to Android 4.4 and folder "Baidu" on the internal storage. If you delete it and reboot the phone it gets recreated. Here a screenshot from lggyjp from the forums:
Sony is claiming that this is the connection to Baidu the Chinese Google equivalent, but the setup has some potential implications which gets user upset. An example is the post by Elbrid in the forum: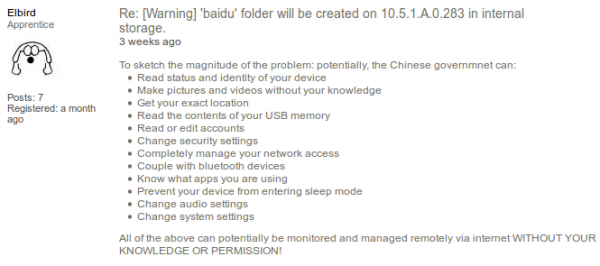 Following is the response by Sony, first by a support guy called Richard:
This folder will be removed in future software updates for the phone. Until then i can only advise that you delete it manually after a reboot if you want to remove it. It's safe to just delete it.
and than the post yesterday by responsible manager:
Hey guys
Magnus Hilding here – I'm heading the team developing MyXperia @ Sony Mobile. As Rickard said, we built the app using both protocols to ensure both our Chinese and global users could enjoy MyXperia. However, we've designed later versions to package the service relevant to a specific region only – these updates are right around the corner, rolling out soon.
As Rickard said, it's really nothing to worry about.
/Magnus
If you want to remove it at once and not wait for Sony, take a look at this article which shows the 9 steps needed to get rid of it.
No Comments yet »
RSS feed for comments on this post. TrackBack URI
Leave a comment
Powered by WordPress
Entries and comments feeds. Valid XHTML and CSS. 41 queries. 0.065 seconds.