August 10, 2014
For  readers with their own mail server (or if you want to check what your provider is doing) – verify that your mail server accepts encrypted communication and that PFS is enabled.  Just click on this link and enter the domain name to test. Some big players goof there ….  It should at least look like in the screen shot. DANE would be cool, but that's not that easy at this point as you need a working DNSsec DNS server, which not all registrars provide. Sure you can host your own authoritative DNS servers but that is work …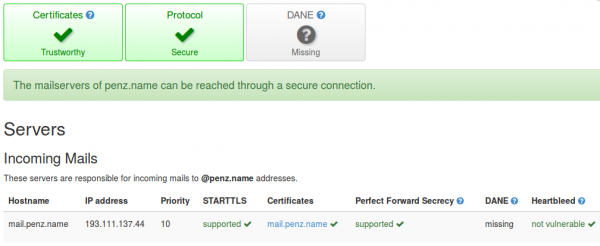 ps: send also a mail to [email protected] to check if sending mails is also encrypted. It should look like this:

1 Comment »
RSS feed for comments on this post. TrackBack URI
[…] domain name to test. Some big players goof there ….  It should at least look […], Security Bloggers Network, robert, […]

Pingback by Security-Vision » Check if your mailserver is encrypting SMTP to/from other mail servers — August 10, 2014 #
Leave a comment
Powered by WordPress
Entries and comments feeds. Valid XHTML and CSS. 39 queries. 0.047 seconds.