June 26, 2014
This article shows you how to intercept and analyze HTTPS traffic. This of course only works if you can add your CA to the client system or the client system does not check the key chain. But you would not believe how many clients, specially embedded devices and mobiles apps don't check it. The software I use in this post is the Free version of the Burp Suite – from the homepage of the Burp Suite:
Burp Suite is an integrated platform for performing security testing of web applications. Its various tools work seamlessly together to support the entire testing process, from initial mapping and analysis of an application's attack surface, through to finding and exploiting security vulnerabilities.
Installation
As it is written in Java it is really easy to install and run. Just these 3 commands
sudo apt-get install openjdk-7-jre
wget http://portswigger.net/burp/burpsuite_free_v1.6.jar
sudo java -jar -Xmx2g burpsuite_free_v1.6.jar

I use sudo for the Java process as it needs in my cases to listen on ports lower than 1024 and this requires root permissions. After entering the last command and accepting the EULA you get following window: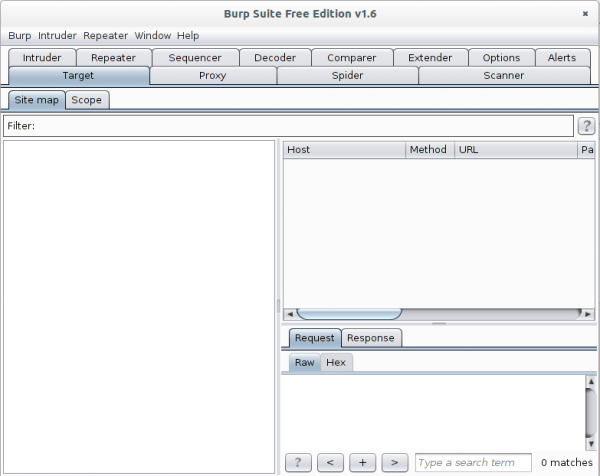 Now go to the Proxy | Intercept tab and click onto "Intercept is on" button to disabled it. Otherwise you'll need to acknowledge every request.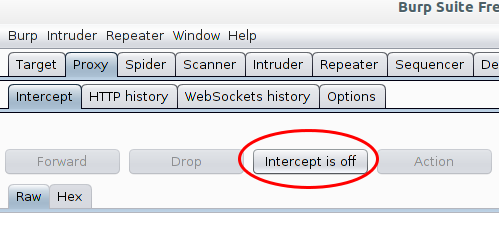 The proxy is already running but only on localhost, we need it to listen on all to look at traffic from other devices.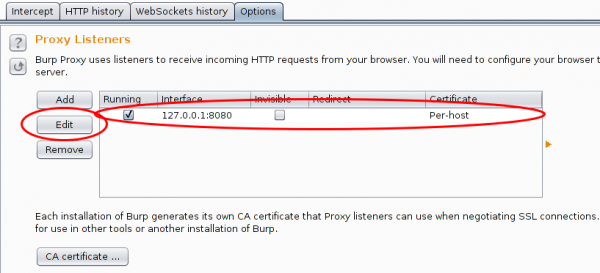 And in this case I want to see the traffic to a specific host from my mobile, so I set Burp to port 443 and to invisible mode and define a redirect IP address (the original host IP address).

After this, you only need to set on my local DNS Server the wished host name to my desktop IP address and the traffic runs over it and if the client accepts the faked certificate you can look at the traffic. Which looks e.g. like this: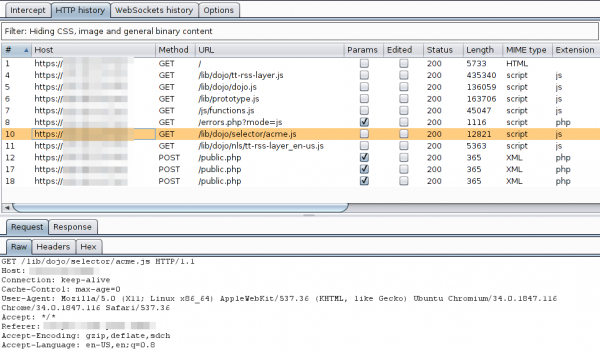 For other devices or requirements it is also possible to use Burp as a HTTP Proxy, just configured it on the client. ARP spoofing is also an idea…..
5 Comments »
RSS feed for comments on this post. TrackBack URI
Leave a comment
Powered by WordPress
Entries and comments feeds. Valid XHTML and CSS. 39 queries. 0.074 seconds.