December 7, 2012
We've bought a new multi functions printer at home, a Canon PIXMA MG4250 and as we're a Linux shop (PCs and notebooks under Linux, mobiles and tablets under Android) I needed to make the printer work under Ubuntu, in our case Ubuntu 12.04, but the solution should work also under newer versions. We've connected the printer via WiFi and therefore need both printing and scanning to work via WiFi.
At least at the time of writing this blog post, searching for a driver or howto was not that easy, specially if you search on the US or European Canon Site …. you need to got the Asian site. You wont find the MG4250 listed there but the MG4270. Take it. I should lead you to a driver site where you can choose "Linux" and than 2 links are interesting for you
I provided direct links to the drivers above but the version may change or the URLs themselves – so maybe the links are broken at the time you're reading it – in this case you need to click through the site to the new pages.
As you see the drivers are generic for the whole MG4200 series so we're good. Download the tar.gz files and open a console (e.g. CTRL-ALT-T) and change to that directory.
Printing Part
Lets start with the printing part by extracting the tar.gz and changing into the newly created directory.

$ tar xzf cnijfilter-mg4200series-3.80-1-deb.tar.gz
$ cd cnijfilter-mg4200series-3.80-1-deb/

And let the installation process begin with (if prompted for a password use your user password )

$ ./install.sh

After installing the packages you will be asked some questions. The first one is to connect your printer and switch it on. This is followed by the connection method you're using (USB vs network). In the case of network it will broadcast within the same subnet, so it only works if the PC and the printer are on the same subnet. After it detected the printer you need knowledge that and choose if it should be the default printer.
After all this just go to the most top right icon and click onto it to the following menu, choose printers …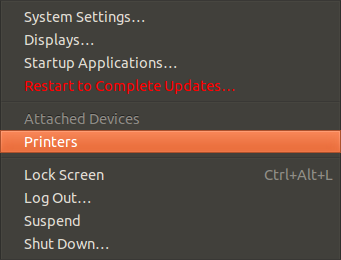 …. and it should show you following with your printer: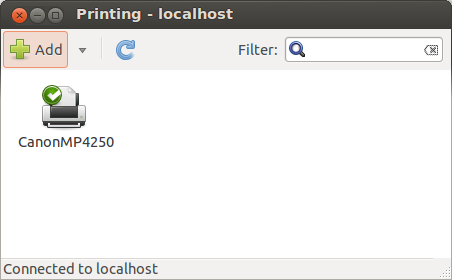 Ok, printing is working … lets go to scanning
Scanning Part
As with the printing part extract the tar.gz and change into the newly created directory.

$ tar xzf scangearmp-mg4200series-2.00-1-deb.tar.gz
$ cd scangearmp-mg4200series-2.00-1-deb/

And again we're using the install script  (if prompted for a password use your user password ).

$ ./install.sh

You'll be asked no questions and after the installation just start the scanning program with following command

$ scangearmp

It will show you an error message that no configured scanner has been detected, click Ok. Now following window is shown: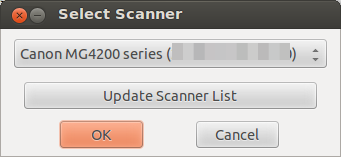 In the case of the first start the list is empty, you need to click onto "Update Scanner List", after this you should see the same window with your printer. Click onto Ok and you get following: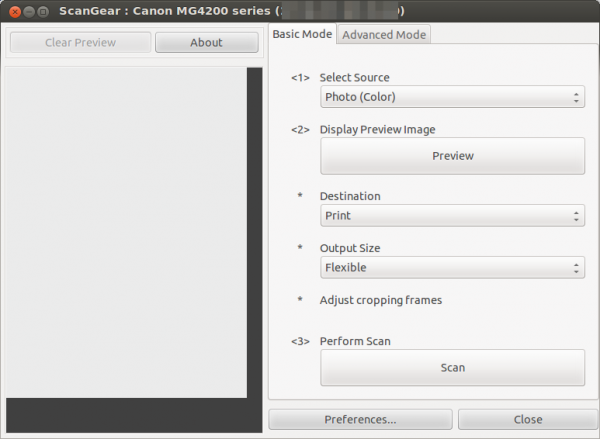 And we're done.
Update for Ubuntu 13.10 (and possible other versions) users:
If you get following error message:
Unpacking cnijfilter-mg4200series (from .../cnijfilter-mg4200series_3.80-1_amd64.deb) ...
dpkg: dependency problems prevent configuration of cnijfilter-mg4200series:
cnijfilter-mg4200series depends on libtiff4; however:
Package libtiff4 is not installed.
dpkg: error processing cnijfilter-mg4200series (--install):
dependency problems - leaving unconfigured
Errors were encountered while processing:
cnijfilter-mg4200series
Just install the library with
$ sudo apt-get install libtiff4
and the call the install.sh again and it will work.
62 Comments »
RSS feed for comments on this post. TrackBack URI
Leave a comment
Powered by WordPress
Entries and comments feeds. Valid XHTML and CSS. 43 queries. 0.068 seconds.